Belly friendly falafel is one of my all time favorite.  My secret recipe for this is made with chickpeas, fresh herb, and the right spices! I'm sharing my complete step-by-step recipe and important tips for perfectly baking this belly friendly falafel. Be sure to read everything to see how I make it!
Falafel is a very popular street food and is eaten throughout the Middle East. This is very famous with vegetarians worldwide.
Belly Friendly Falafel Recipe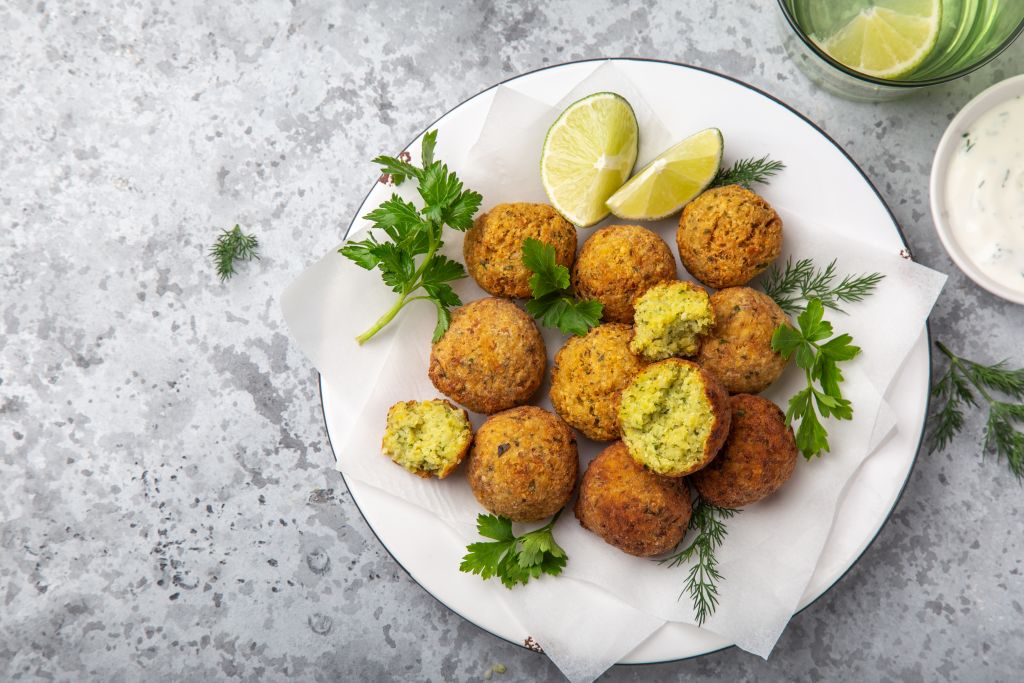 This traditional Middle Eastern food is usually made of broad beans, chickpeas, or both. How can you enjoy this belly friendly falafel? You can serve them in freshly made pita sandwiches with hummus or tahini sauce. Also, you can enjoy them with a hearty tomato and cucumber salad.
Ingredients
1 cup dry chickpeas (not from can), soaked overnight
1 bunch fresh parsley, stems included
1 bunch fresh cilantro, stems included
1 large yellow onion, peeled and quartered
4 garlic cloves, peeled
1 tbsp avocado oil + ¼ cup for later
¾ tsp sea salt
½ tsp freshly ground black pepper
½ tsp baking soda
1 tsp ground cumin
1/4 tsp ground coriander
1 tbsp tahini paste
1/2 lemon (for fresh squeezed lemon juice), optional
Directions
1. Preheat the oven to 400 degrees. Drain chickpeas, which were soaked overnight, and pat dry using a paper towel to remove excess liquid.
2. In a food processor, combine parsley, cilantro, coriander, onion, garlic, tahini, lemon juice and 1 tbsp avocado oil. Process until ingredients are finely chopped and combined, but not liquidy (about 30 seconds, pulsing occasionally). Be careful not to over process. Transfer to a large mixing bowl. Add salt, black pepper, baking soda, and ground cumin.
3. Transfer chickpeas to the food processor and and process (until texture resembles cooked couscous or quinoa), approximately 30 seconds, pulsing occasionally. Transfer to herb mix and mix well.
4. Line a baking sheet with parchment paper and drizzle with half of the remaining avocado oil. Create ground balls of the chickpea mix, squeezing any excess liquid with your hands while tightening the ball, and place on top of the parchment. Drizzle each ball with the other half of the avocado oil.
5. Bake for 40 minutes, turning half way through, until golden brown.