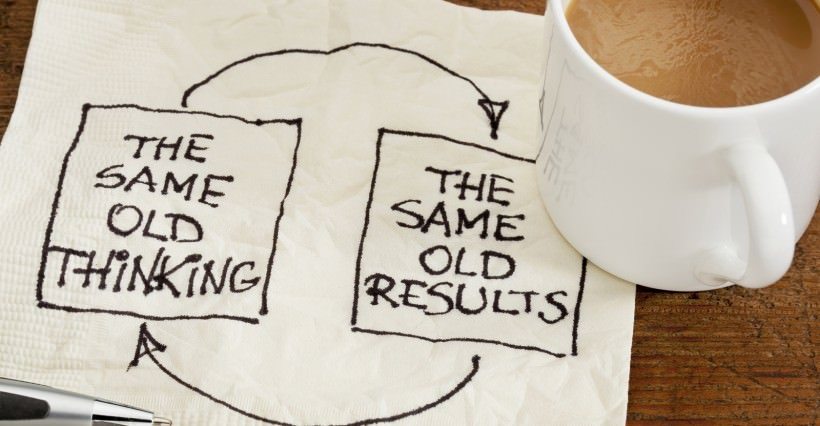 If you've ever attempted a program before—such as a diet or regular exercise, or attended a motivational seminar or made a New Year's resolution or gave up something for Lent, you've probably experienced something like this scenario:
You feel enthusiastic and excited; itchy for a 'change'; or just outright fed-up with the way things are, so…
You set a new goal
You make a new commitment
You follow through for a week…a day…an hour…
BUT then something stops you from following through…or continuing on…or maybe even actively actually taking that first step (even though you did in your mind, or even in the preparation for action)
What is that 'something'?
Lack of time?
Not enough money?
Too hard?
Too busy?
Too overwhelming?
If you REALLY are serious about making 'this time' different, about following through with your personal goals or commitments (and, in turn, reaping the rewards: the results you want), you have to get out of your own way.
I see this time and time again—and I too can only relate.
However, the difference in actually experiencing success or making a change comes with those 'little choices' you make daily for a short-term, that eventually lead to long term success or change.
Tired of struggling with your weight, off and on, now for 10-20 years?
Know that relationship in your life is not good for you, but scared to end it—it's become a source of comfort?
Know things need to change with your nutrition—you're a sugar or coffee addict…or not eating enough…or binging every time you get stressed—but…argggg….it's just so much work to make that change; or you will 'do it tomorrow'?
Unhappy at your job, but the thought of looking for a new one, or going through the interview process, or instability for a short time seems so draining?
Have an idea you want to start…or a business you want to go into…or a project you want to see unfold—but man, the time it takes…maybe one day?
Aspire to stress less, do more things that 'make you tick', fit exercise into your daily routine…but day in and day out…nothing changes about your schedule, or the things you prioritize over others?
Come to identify yourself as 'the anorexic', or 'the frumpy soccer mom', or 'the girl who never is going to get married' or 'the hard worker-but not fun guy'….so you just are going to be that person, whatever?
Want to change your body composition, or get 'healthier', but when it comes to changing your diet, or taking a healthy supplement like a fish oil or probiotic, or drinking more water, or making time to workout…'another day' is your excuse yet again?
AHHHHHH!
Stop the cyclical cycle.
Many people are routinely blocked and 'stuck' in habits, ways and identities by self-sabotaging thinking and behavior.
If you thought you were the "only one"….know you are in good company (i.e. not alone).
Today it's time to consciously start granting yourself permission every day to move on with your life, and get what it is you want out of it!
Start with asking yourself: What is it that routinely prevents you from being successful in your own goals?
For instance, you want to 'stop binging at night' or 'eat better' in general, but due to the temptation of treats at work, or pint of ice cream in the freezer at your house at night…it's in sight and in mind. Or, you don't take the time to prepare or pack a balanced breakfast and lunch for the day ahead (you are 'busy'), so in turn, your 'better eating' takes a hit.
Another example: You want to make healthier choices around your exercise—either exercising less if you are overexercising, or incorporating 2-3 days per week of walking if you don't exercise at all…buuuuuttttttt, your schedule looks the exact same as it always does—with too much unstructured time (i.e. time for overexercise), or no time whatsoever to fit it in…
Or, you want to improve your body composition (lose weight or gain weight), but every time you look in the mirror, your self-critic is alive and well. You might as well just settle…it's who you are and the excuse of 'it's so hard' begins to overpower your mind.
Once you identify those things that keep you self-sabatoging yourself…it's time to stomp 'em out. '
Making an action plan is hugely effective.

Focus on ONE step you can take today towards building in your goal. Not the list of 10 or 15 or 20 steps….just one step. One step at a time.
Lastly, define your mantra.

Speak positivity to what it is you want in your life right now.
Something I often tell people I HAD to do during my recovery from my 14-year battle with an eating disorder was to BEGIN ENVISIONING MYSELF WHERE I WANTED TO BE.
I had to embody that Lauryn, in my mind, in my choices and my actions.
Daily, I asked myself: "What would healthy Lauryn do (in this or that choice or situation)?"
If it did not align with what I wanted….then it was a good indicator I should choose or go in a different direction (from choices around exercise and choices around eating/not eating and self-care; to being able to say 'no' and not always be a people please).
Some examples of mantras for you could be similar to mine above, or something like:
I deserve to be successful.
I don't have to be this way forever.
Today is the first day of the rest of my life.
I don't have to do everything in ONE day—just make one step, one choice today.
THRIVE was created out of my passion to encourage and guide others to STOP settling and start living.
As an Occupational Therapist, Nutrition Therapist, and Fitness Professional, I address the mind, body and soul of every client I work with so they are able to be healthy—inside and out.
Through education and individualized design programs for one's nutrition, fitness and health (mental and physical), I take the 'thought' out of these basic human needs, so they can in turn, focus their energy, passion and time on the things that truly matter:
Living out our dreams and passions that you were uniquely given is what we were MEANT TO DO in this life!
YOU were meant to thrive.
Seriously, stop settling.