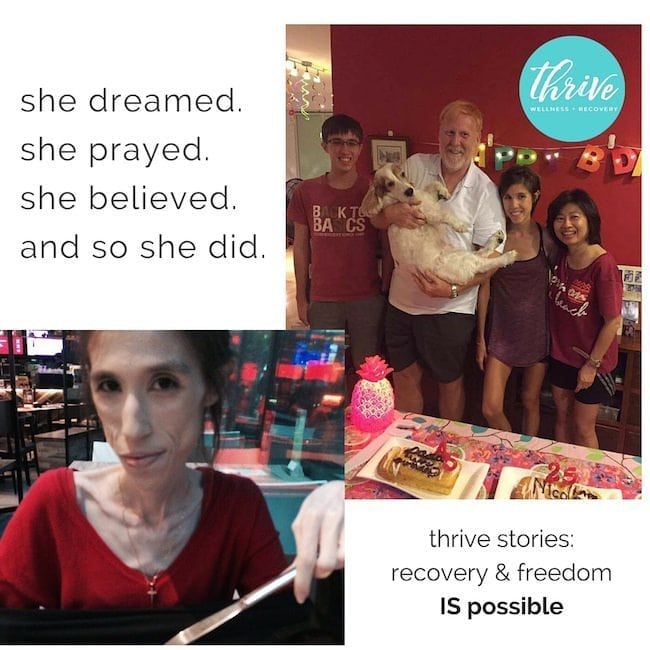 Only 1 in 10 people with an eating disorder actually seek help and eating disorder treatment. Meaning that 90% of individuals struggling with obsessive thoughts about food, control by food, exercise, binging and purging are not getting help and trying to fight it on their own. Nicole, one of Thrive Life's first clients, is a living testament that seeking out help, then finding these two things can help people overcome. 
There are certain people who come into your life that leave a footprint on your heart. Nicole is one of those people. I first met Nicole about two years ago—October 7, 2014—to be exact when she contacted me with this inquiry:

---
Reaching Out
I came across your blog sometime ago and found it very inspirational and encouraging given how I have and am going through a lot of what you went through. I'm 23 right now, and have [struggled] since I was about 14 or 15—going in and out of treatment centers and the like both here and overseas. I am currently taking some online courses and trying to finish up my Bachelors degree.
Right now,  I am physically at a pretty low weight and I struggle with both exercise addiction and some life dominating food habits. However, I am definitely at the point of being so exhausted and tired of [this] eating disorder as well as being self absorbed.
I desperately want to change. I am looking more for help on all aspects of life (as opposed to the traditional treatment like food planning) while also incorporating goals related to  weight,  trips and social interaction.
Let me know when is good to talk and if you can and would be willing to help.

-Nicole
Operation Nicole
What a whirlwind it has been.
We started working together – connecting via phone and e mail – and I'd simply ask her to bring one thing to the table: Desire.
Desire to get better.
"I'm not here to coddle or hand hold, or be another check list for your recovery therapy sessions. I want to work with someone who is really ready to thrive—you don't have to be there yet—but you need to want it," I told her.
Although initially hesitant, Nicole eventually responded that she wanted nothing more than to thrive–and was open to a new process for "getting there."
After years of trying the "treatment thing" and playing the recovery game – she was sick of it (like I had once been too) – and from there, Nicole's beautiful recovery story began to unfold.
The Journey
Over the past two years, I've witnessed Nicole struggle and strive: From pacing at least m 12 hours daily in isolation to taking spinning classes at a local studiowith others, from spending her waking hours planning her meals and counting calories to spending that time involved in more productive things such as community and writing, from refusing to trust anyone and desiring perfection to opening up to others and embracing the process. I've watched Nicole cry and pray, seek and find, isolate and connect, fear and conquer, doubt and trust.
In our sessions, we often talked about life after bondage – helping her gain clarity and vision for a life outside the one she had known for far too long.
Nicole came to each and every session  ready to dig deep and just talk or process everything going on in her heart and her head.
Throughout our sessions together, Nicole explored her greater purpose…brought light to the spiritual warfare waging battle in her head and heart every day…processed her 'why's' (why's for holding on)… dreamed BIG dreams for what thriving in life really looked for her…and prayed bold prayers.
Fast-forward to today: I hardly recognize the glowing beauty Nicole radiates in this picture taken celebrating her 25th birthday with friends in Singapore.
The Celebration
She wrote me this:
"Celebrated my 25th yesterday and was really just blown away by how God really has delivered me from isolation into actually loving community!
It was a wonderful birthday week with surprises and presents from friends and family, celebrating…God is doing something great.  
In terms of my struggles with over-exercise for instance, recently, I've been [finding more freedom with exercise and trying other] things like spinning and barre—[things outside my usual routine].
I'm learning more about my own body and I love how the body is SO smart… exercise is no longer (for the most part) a form of punishment but something I look forward to… I've  realized that I don't have to do the same thing daily and that I don't always have to push myself at every single class.
Sometimes, just showing up and having fun is more than enough – I'm not perfect and that's okay.
God has also been speaking to me about my real purpose – and what I will find ultimate fulfillment in..
It's been slightly scary and I'm still wrestling with Him about it. You see, I've always felt like my "calling" had to do with helping others in their struggle with food and exercise.
Recently, though, God has been speaking to me about how my "story" has less to do with food and exercise and more about how [in my recovery], I'm called to bring people out of isolation–whatever their struggle.  Finding community and accepting love (love from others and ultimately self-love) is what has really brought true freedom.
There are so many people out there who are alone and whose struggles (be it an eating disorder or depression or something else) keep them hidden in shame, fear of judgment, etc.
[Whatever I am meant to do—in my life and for career, I know this]: Ultimately, God's unconditional love and acceptance, family, angels like yourself who have believed in me, and connecting with community are what have made the biggest change in my ongoing journey.
At the end of the day, diet and exercise do play a crucial role BUT the lasting change (for freedom) has to be from the inside out…"
-Nicole
Breaking Free
Freedom can be won.
 Nicole's underdog story—a girl who, when I first met her, could not even be accepted by treatment centers here in the states because she was "too much of a health risk" is one of  beauty rising from ashes, described in the verse, Isaiah 61:1-3:
"He has sent me to bind up the brokenhearted, to proclaim freedom for the captives and release from darkness for the prisoner…to bestow on them a crown of beauty instead of ashes…
In her newfound restoration, Nicole believes two things made all the difference outside any plan or program could have ever given her:
"So many people are trying to 'fix things' with another plan, a treatment program, a diet, a protocol that will only get them so far. For no matter what we are trying to do (recover from an eating disorder, gain or lose weight, win friends, influence people, or do well in school), the secret to success lies in two things: the power of our mind (fixing our eyes truly on what we want) and connecting deeply to our own hearts (what is it we are called to do, what our passions and callings are, what brings us joy, and fills our lives with love)," she said. 
Although Nicole's journey to full restoration is far from complete – isn't that the case for all of us?
You don't have to live a life with a "managed" recovery, or "managed" relationship with food, obsessive thoughts, diets, exercise or 'holding it all together.
Never give up.
If you or a loved one is struggling with an eating disorder, there is nothing to be ashamed about. Thrive Wellness & Recovery was founded with the sole intention of helping individuals get UNSTUCK from their struggles with food, exercise, or their body in order to live out their purpose. I love nothing more than partnering with people like you to find your own "lightbulb" (a-ha) moment.
What does THRIVING in your life look like for you?
SaveSave