Got toxic mold? A mold test like ERMI Mold Test can let you know. 
However, be warned: Not all mold tests are created equal! If you want to test for toxic mold, you want to run an ERMI mold test and possibly a HERTSMI test— not an air sample or even a mold home inspection. Here is why…
TOXIC MOLD VS. MOLD
There is mold. Then there is toxic mold. 
There is a difference.
Mold (fungi) is a normal part of life. Especially in the great outdoors. 
Toxic mold on the other hand (or mycotoxins) are potent chemicals that certain species of molds can produce under certain conditions.  These chemicals are attached to mold spores, mold fragments and dust particles that blow around and settled out in the household dust. 
Mycotoxins are known weapons of biological warfare in history text books and linked to a number of serious health issues, from asthma and respiratory inflammation, to cancer, neurological conditions, liver and kidney toxicity, digestive distress, autoimmunity, vertigo and migraines—just to name a few.
Mycotoxins accumulate in both water-damaged buildings, as well as buildings where humidity is above 50% for a length of time, HVAC systems with poor heat and cooling ventilation, spray foam insulation, and poorly constructed, air tight structures (where the home does not "breathe" or wood was previously exposed to rain or water during building).
These toxic spores collect in porous items and surfaces (especially carpets, rugs, furniture, wood, upholstery, clothing) and before long, you are living or working in a toxic soup. 
TYPES OF MOLD TESTS
There are several ways to test or assess mold, including:
Visual home inspection

(assessing for mold with the naked eye)

Air sampling

(testing for mold spores in the air)

Mold swab

(swab visual mold growth)

Mold spore plate testing

(test plates that collect mold spores from the air)

ERMI mold testing

(dust sampling for molds often associated toxic mold spores; ERMI looks at 36 mold species)

HERTSMI mold testing

(a "lighter" version of the ERMI

mold test

that analyses the dust sample provided for "Big 5" molds)

Mycotoxin mold scans

(test for mycotoxins)
NOT ALL MOLD TESTS ARE CREATED EQUAL
Even though the word "mold" is associated with all the types of tests out there, not all mold testing is created equal. 
Most companies you Google search in your city are going to offer 3 types of testing—
visual home inspection 

air sampling and/or 

visual mold growth swab or surface testing.
However, visual inspection, air sampling and mold swabs often miss the boat completely on toxic mold testing. 
This is because mycotoxins (toxic mold spores) are NOT seen with the naked eye and they are heavy (ie. They collect in dust, not air). In other words, air mold testing only tells a tiny part of the picture. Heavier molds (such as Stachybotrys or Chaetomium globosom) will rarely show up on air testing. Incidentally, these are known to be very toxic molds that make people very sick. 
Additionally, surface testing (another mode sometimes used by lab test companies), while helpful for visual mold growth, does not always detect toxic mold either because, unless there is a fuzzy fungal growth or visual mold, inspectors will not use this (remember: mycotoxins are not seen with the naked eye).
ERMI MOLD TEST, MYCOTOXIN TESTING & QUALITY INSPECTION: THE GOLD STANDARDS
There are 3 primary types of "mold tests" that I recommend for my patients to assess for toxic mold:
ERMI Mold Testing (or a DNA Mold Scan)

Mycotoxin Testing

Quality Mold Inspection (with an IEP-an indoor environmental professional).
ERMI / DNA Mold Scan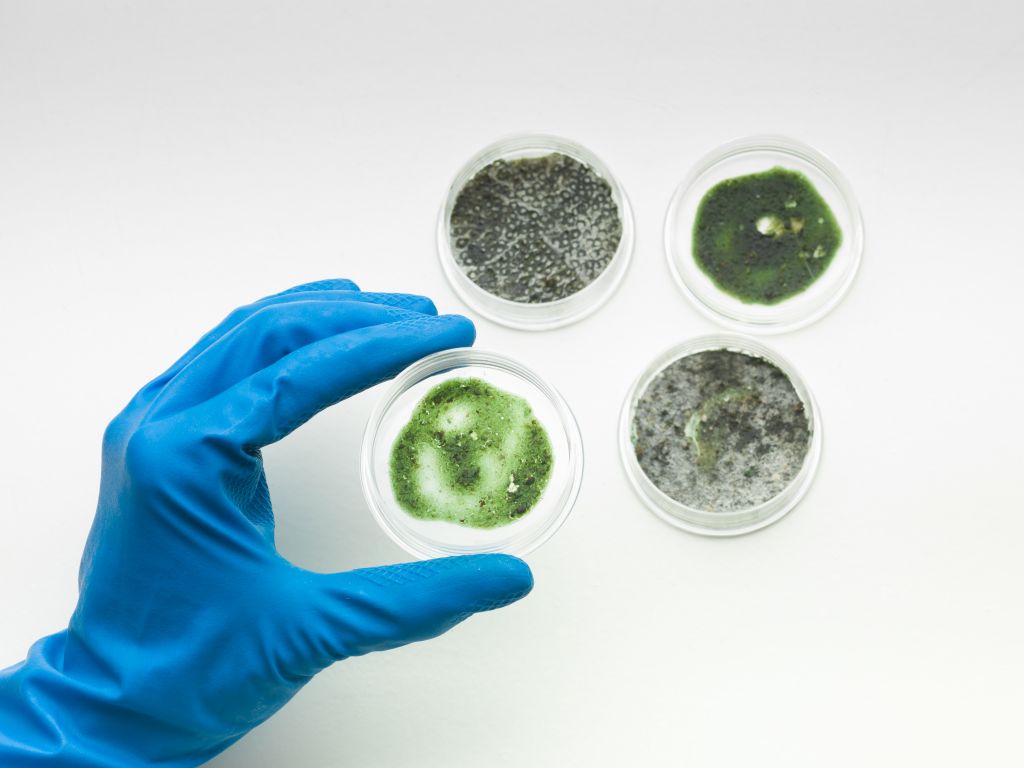 The purpose of the ERMI test is not to determine if there is mold in the house (because mold spores are everywhere).  What we try to determine with an ERMI is if there is hidden mold growing somewhere in the house, possibly producing mycotoxins. 
The ERMI mold test (or DNA mold scan) is an objective, standardized DNA-based method of testing  that will both identify and quantify molds. It is accomplished by collecting a dust-sample  from various parts of the home where molds tend to collect (such as windowsills, base boards, near HVACs, washing machines, etc.), you then send the sample to a 3rd party lab to assess it for toxic mold spores. 
A score is then given on the overall mold toxicity score, as the species seen in this test also correlate with what mycotoxins they may produce. Although an ERMI or DNA mold scan will not tell you the specific mycotoxins present, a score can be instrumental when comparing homes and deciding whether a hypersensitive individual should live in the home or vacate. 
Mycotoxin Test
Additionally, a Mycotoxin Test takes the ERMI one step further. The ERMI does not necessarily test for the dangerous toxins that can cause very serious diseases in the bodies of humans and animals. 
There is no way for an inspector or technician to know if a mold is producing mycotoxins or not unless we test for actual mycotoxins present. 
The top mycotoxin families that we want to test for include:  Ochratoxin A, Aflatoxin Group (B1, B2, G1, G2), Trichothecene Group (Satratoxin G, Satratoxin H, Isosatratoxin F, Roridin A, E, H, L-2, Verrucarin A, Verrucarin J), Gliotoxin derivative, and Zearalenone.
As mentioned above, it is the mycotoxins that the body is reacting to, specifically in cases of "mold illness" or CIRS (chronic inflammatory response syndrome). Therefore, knowing if mycotoxins are present and at how high of levels can be very useful in determining whether a home is safe to live in or not. 
IEP Inspection
An IEP (indoor environmental professional) is a trained, mold-literate professional who understands there is more to mold than meets the naked eye (in other words: you do not have to see purple fuzz or black on your wall to have mold). 
An IEP is also aware of mold illness and CIRS (chronic inflammatory response syndrome) and how some environments can make individuals sick (sick building syndrome) due to mycotoxins.
Beyond just getting a weekend-long training certification in mold assessment or simply looking for visual mold growth, an IEP goes a step further, typically with several years of education and experience under the belt, and a tremendous understanding of the nuances of mold testing, as well as building construction and environment in order to accurately assess for toxic mold. 
You can find an amazing list of IEP's over at the International Society for Environmentally Acquired Illness' website: https://iseai.org/find-a-professional/ or contact my personal go-to IEP, Eric Althouse here: https://blackmoldscan.com 
DON'T GO IT ALONE
Mold illness and dealing with toxic mold can be overwhelming, but when you work with a mold-literate professional who has been there, it does not have to be!
Contact my clinic today here: https://myfunctionalmedicine.com to get support in both dealing with the environment as well as recovering your health. 
I look forward to meeting you.